Electricity and gas customers, for a variety of reasons, can experience difficulty in paying their bills. Electricity and gas supplier members of EAI developed the Energy Engage Code to ensure that, while these circumstances will inevitably continue to arise in the future, the number of electricity and gas disconnections will be reduced to an absolute minimum.
Individually, energy Suppliers have sought to assist their customers, and in particular those in arrears, by providing them with appropriate support to help them to manage their energy use and costs. These efforts have resulted in a significant reduction in electricity and gas disconnections, the combined effect of which has been to significantly reduce such disconnections since the Code's launch in 2014. These measures are in addition to the Statutory Code on consumer protection that includes the treatment of disconnections by energy Suppliers and the support that Individual Suppliers are providing to their customers, and in particular those in arrears, by assisting them to manage their energy use and costs.
For all companies the disconnection of energy supply for non-payment is used only as a last resort, and as an industry we have recognised that further efforts are required to assist customers when they begin to accumulate arrears.
The Energy Engage Code puts in place:
A coordinated approach between Suppliers

A commitment from Suppliers never to disconnect an engaging customer and provide every opportunity to avoid disconnection

An agreement to develop new, early ways of identifying customers at risk and targeting communication with these customers to encourage early engagement

A commitment from all Suppliers to Introduce a new individual case review in advance of any customer being disconnected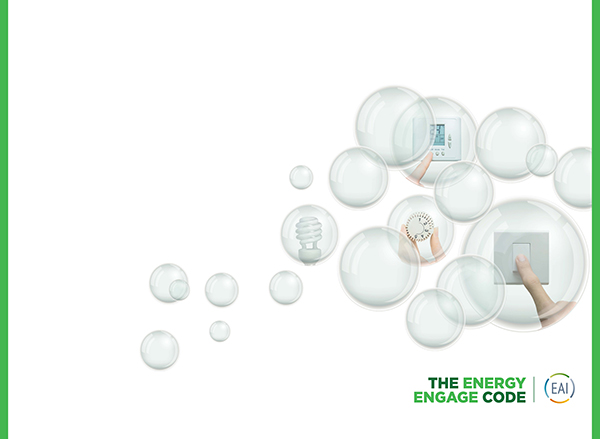 On the first point, Suppliers in the Single Electricity Market (SEM) operate in one of the most competitive energy markets in the EU. In this context, Suppliers have individually developed a range of measures over the last number of years to assist customers in arrears including payment arrangements and Pay-As-You-Go (PAYG) meters. By cooperating in this specific area and jointly agreeing a number of new measures, we have achieved new synergies that deliver a higher rate of success.
This cooperation has allowed Suppliers to deliver a second new measure and to make a firm commitment never to disconnect a customer who is genuinely engaging with them to manage their energy costs in a workable manner.
In addition, as a final resort, Suppliers will always make the offer of installing a pre-payment meter as an alternative to a customer facing immediate disconnection. Disconnection is clearly not in the interest of individuals or households. Neither is it in the interest of Suppliers. By jointly making this commitment Suppliers are offering reassurance to customers that by working with their Supplier they can continue to receive their energy services.
This leads to the third key measure – the agreement by Suppliers to use the data systems and other information available to them to develop new, early ways of identifying customers at risk and to then target communication with these customers to encourage their early engagement. The success of this measure will ensure that the real stress and costs associated with the risk of disconnection can be pre-empted.
Fourthly, recognising that no two persons' circumstances are the same, Suppliers commit to undertake an individual case review. This will seek to address the totality of an individual or household's circumstances, to the extent they are knowable to the Supplier, and what other support measures may be available in advance of a request for disconnection.
This initiative brings customer engagement by Suppliers to a new level through a coordinated industry-led programme of measures. Suppliers will make use of these measures to encourage customers in arrears and at risk of disconnection to engage with them so as to ensure that they remain connected to their energy supply.
The key principle underpinning this programme is a firm commitment by Suppliers that they will never disconnect an engaging customer. In this way, Irish Energy Suppliers are further demonstrating their clear commitment to work together with their customers to bring arrears and disconnections to the lowest level possible.
Suppliers currently signed up to this Code are Bord Gáis Energy, Electric Ireland, Energia, Flogas, Panda Power, Pinergy and SSE Airtricity.
An independent assessment of compliance with the Code in 2016 found that:
A high level of compliance with the terms of the Code was observed across all of the suppliers. In particular, suppliers demonstrated a number of policies and procedures for dealing with customers in arrears with the overall objective of not disconnecting an engaging customer.

Suppliers were also found to have detailed processes and procedures in place for offering a range of debt repayment options to customers in arrears, including part-payment and pay-as-you-go meters.

Suppliers also appear to have a range of processes in place for ensuring that staff are sufficiently trained in and have an awareness of the requirements of the Code.

Finally, suppliers have demonstrated varying approaches for completing annual internal assessments of their compliance with the Code.
Existing CRU Protections
Every energy supplier that operates in the Irish energy market must comply with certain mandatory consumer protection standards that are set out by the CRU in a Supplier Handbook. Before a supplier can consider disconnecting a customer, they must agree a payment arrangement which suits the customer's circumstances, while avoiding a situation where the debt becomes worse. This can include the installation of a Pay-As-You-Go meter.
Energy suppliers must also refer an at-risk customer for guidance to their local MABS office, St Vincent de Paul office, or local Community Welfare Officer and find out about any exceptional circumstances, such as special needs that might apply. Only after each of these measures fail, and only after at least another four separate attempts to contact the customer have been made without result, can a supplier consider applying for a disconnection. In addition, all suppliers are obliged to establish and keep updated a register of vulnerable customers. Customers who fall into this category cannot be disconnected during the winter months from November 1st to March 31st.
The CRU regularly monitor energy suppliers to ensure that they are complying with these standards and undertakes random audits of suppliers; including site visits.